Jude
After helping to start Tanglefoot in 1995 l have met some interesting and inspiring people. My journey through dance has been one of my life's highlights. I have also made some very good friends along the way.
I wish Tanglefoot all the very best in the future. Keep dancing!
p.s. Many thanks to Jude for her legacy of splendid choreography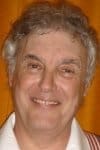 Bob

Time to put the feet up and let the more abled carry on with the precision dances although can't resist a little 'flatfooting' when the music strikes – once clogging is in your blood you can't resist it!
Bobby
Bobby was Tanglefoot's banjo and mandolin player from 2001 until he retired in October 2015 in order to do more travelling and spend more time on his other hobbies.
June
June left Tanglefoot mid 2014 upon moving to the West Country.

Ann K
Ann retired from dancing with Tanglefoot in January 2014 due to other commitments.

Bev
Bev retired from dancing with Tanglefoot in October 2010 but can still be seen dancing with her Morris side and has taken up ballroom dancing with her husband Martin.
Melvin
Melvin retired from dancing with Tanglefoot at the end of 2010, but he can still be seen fishing, eating, drinking beer and generally enjoying himself with wife Lin!
Jenny
Jenny started Appalachian clogging in 1999 and joined Tanglefoot in 2011, having moved from Wiltshire to Kent. She is not currently dancing with Tanglefoot, having moved overseas.
Past Members
Mick Pywell
After being diagnosed at the beginning of the 2008, Mick lost his battle with cancer in August of that year. He was a valued member of the Tanglefoot team, a very talented man and a great example to us all.
Terry
Terry Pearson, sadly missed, dear friend and a lovely double bass player